While you are playing an airsoft sport, it is necessary to have a nice gun. Alongside the shotgun, there is something, which is equally important with your weapon. Guess what? It is an airsoft mask, undoubtedly.
An airsoft mask is a must-have ingredient that you need in the field of battle to keep yourself safe from bullets. But, many of you don't know how to make an airsoft mask, right?
Well, fix your worries aside since we are here to show you the simple ways of making it so that you can create it yourself without much effort!
What is An Airsoft Mask?
In order to keep yourself protected in the field of battle, you have to wear on a specific mask (airsoft mask), which will protect your face as well as your head from gun shooting. You will find two different types of airsoft masks in general, including half mask and full face mask.
If you are a beginner, then a full face mask could be the best option for you since you don't need to set up the whole system. Just put it on and cover up your entire face.
The half mask could be an ideal choice for professional players since it permits for more customizability. Long story short: both could be the best addition to your airsoft sport.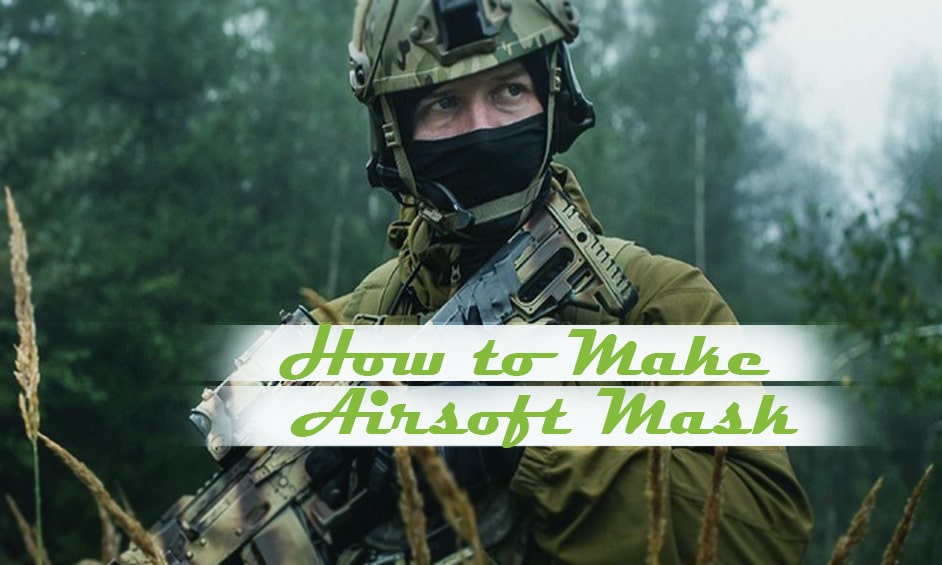 How to Make a Custom Airsoft Mask
If you are used to with your backdated airsoft mask, it's time to customize it by providing a new look. Most people think that it may cost too much, but honestly, it is not. The entire expenditure will be as cheap as chips, just ensure to gather a few tools that you need to customize airsoft mask.
Ingredients That You Need:
You old mesh mask, a paint spray, regular marker.
6 easy Steps to make a custom airsoft mask:
Step-1:
At first, you have to clean up your old mesh mask through some waters.
Step-2:
Take a few minutes to make it dry.
Step-3:
After drying up, make sure to do some spray through the paint spray. We prefer to use the black color (if possible), however, the color choice highly depends on you.
Step-4:
After spraying it up entirely, make sure to wait till the mask gets dry.
Step-5:
Use a piece of a regular marker and provide marks on both sides of the mesh mask. The design that you are going to make also depends on your choice.
Step-6:
Finally, let it dry after providing the design through a marker. If you feel that it gets fully dry, you can use it for your next shooting missions, hopefully!
This is how you can customize your own airsoft mask. See, the entire process seems to be a piece of cake, isn't it?
How to Make a Airsoft Mask Not Fog
It is so frustrating to put on a mask that is entirely fogged up. You may have to face danger if you use it on the airsoft battlefield.
If you apply our technique in a proper way, you don't have to end up with bad experience on the battlefield, hopefully!
The way that we are going to explain could be easy if you clip out the goggle lenses from the frame of your mask. If you can't remove it, don't need to be worried, still you can do the job in a breeze!
Ingredients That You Need:
Shaving cream, hot water, a piece of clean cloth or rags.
Step-By-Step Process to make airsoft mask not fog:
Step-1:
At first, you have to wash the lenses with the assistance of some water.
Step-2:
Use a piece of cloth to dry it up. That should be clean as well.
Step-3:
Shake the bottle of the shaving cream before opening. After shaking, make sure to take a certain amount of cream. Smear the shaving cream to the lenses through your fingers, ensure that you are smearing the whole surface of the lenses.
Step-4:
After smearing the areas, you have to wait for at least 3-5 minutes.
Step-5:
Pick up a clean cloth to erase the creams, make sure to wipe off the area.
You can apply this method before moving on to every airsoft battle. By using this technique, you can ensure a fog free encounter.
How to Make an Airsoft Mask Out Of Cardboard
Well, this is not going to be so difficult, even you can make it yourself with ease. Just a few ideas are required that we are going to let you know right now.
Ingredients That You Need:
A piece of cardboard, airsoft goggle, gorilla tape, a marker or a pencil, scissors.
Step-By-Step making Process for airsoft mask out of cardboard:
Step-1:
Firstly, you have to grab your goggles, hold it up firmly to the edge of the cardboard.
Step-2:
Take a pencil or marker to trace the bottom edge of your goggle.
Step-3:
Check the design that you have done through a marker. It should be similar to the bottom edge of your goggle, remember.
Step-4:
Again, grab the marker and start to make a rough sketch of a mask that you really want.
Step-5:
After providing the marks on the cardboard, you have to take a scissor and cut the entire cardboard instead of the marking areas.
Step-6:
Clean up the rough areas carefully.
Step-7:
Bend the entire cardboard to make it more flexible.
Step-8:
It is time to cut a couple of sets of gorilla tapes. Cut into 3 different pieces. The first should be a bit bigger, and the last should be a bit smaller than the rest.
Step-9:
At last, you have to attach the tapes with the cardboard to make it more durable.
Step-10:
Now it's complete. You can put it on in your next battlefield to keep yourself safe!
Conclusion
By having an airsoft mask, you can avoid worst injuries that could occur while you are playing the "most popular" airsoft sport. Our complete guide about how to make an airsoft mask could be quite beneficial for you since we have included all the necessary pieces of information that are related to airsoft mask.
We have shown you not only the way of making a mask but also the process of customizing it. So, we can say that you have earned a sufficient amount of knowledge regarding an airsoft mask, right?