The AK-47 is perhaps the easiest assault rifle to identify all over the globe. Due to this, its design has been borrowed by playing toys, airsoft guns, and many other live ammo guns in the market today.
In this post, we are going to highlight on some of the best airsoft ak designs that are super cool for the airsoft game. Our post will be reviews of the best airsoft ak 47s, buying guide, and other additional information that you might need to know about the airsoft ak 47.
If you have no available time to read reviews just pick off here by best airsoft Ak47 Comparison Table –
Products name
Type
Play/Level

Weight

Ratings

Speed

Rounds

Price

Soft Air Tactical Kalishnikov Electric Powered AK47 Rifle

AEG
Beginner
/Pro
7.5lbs
100%
Max of 380 fps
600
Price

Double Eagle Metal Electric Automatic Airsoft Assault Gun

AEG
Beginner
/Advanced
7.5lbs
96%
Max of 400 fps
400
Price

BBTac BT-022 Airsoft Fully Automatic Electric AK Rifle

AEG
Beginner
8 lbs
90%
Max of 410 fps
300
Price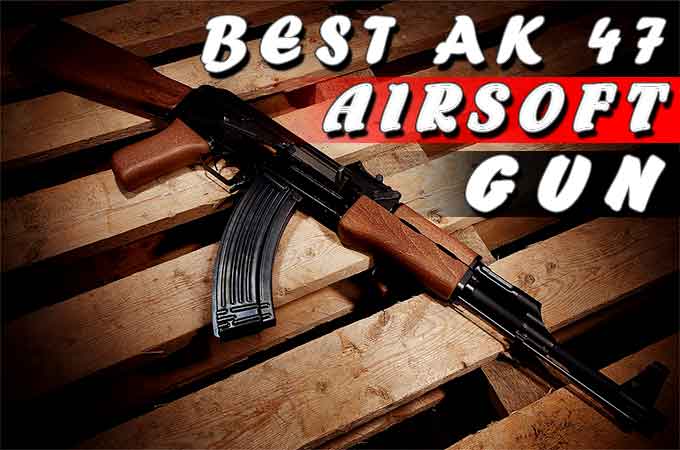 Why Our Reviews?
If you are looking for an ak-47 airsoft gun this post will be very vital as it gives you a complete outlook of what you need to know before buying, how you should buy, and what will your best airsoft ak look like.We have compared many AKs and settled on the best rated. Our work will also save you the hassle of researching through tons of Airsoft guns.
[lwptoc]
How Does Our Research Help?
We spent over 76 hours researching on the best budget ak 47s for airsoft. We compared over 100-gun designs in terms of build, the material of build, length, accuracy, power, piston design, pricing, looks, and also the possibility of upgrading too.
We also looked at the gun ratings, model of operation, bestselling designs, and those guns that enjoyed the best customer reviews. We wanted to ensure that we exhausted every aspect of the guns before we could round up our final list.
At the end of the day, it was very clear that the list that we have presented here was conclusive and reflected what our research geared to achieve. Coupled in our research was the history of the Ak 47, why the AK 47 is the best AEG gun, and why it beats the M4 designs to the chase. In addition to that are tips that could be of help.
Well, with so much done before we could release this best ak 47 airsoft guns review, I believe every buyer will find his peace really worth the read! Enjoy.
Why The AK-47 is The Best Airsoft AEG ?
For over 6 years now Our team have been playing "airsoft" and during these years, We have come to learn so much and developed my own preference between using the AK47 against the M4 (I will show you why later on in this article).
From looking at random comments to our team personal view and that of us airsoft playing team, we have to admit that dropping the M4 and sticking with the AK 47 has been the best thing that ever happened to me in a pretty long time.
So why is the AK 47 the Best Airsoft AEG?
Well, apparently we have used quite a number of AKs. First choice AK AEG gun was the Tokyo Marui AK. The gun had a loose metallic tube, a polymer lower receiver, and a metal dust cover underneath. The wood furniture gave it a stable weight and it could easily shoot at about 360 FPS under the NiCad battery.
Looking at that alone you will see how real the airsoft AK is to the actual live ammo AK 47 and that's much more than just a bonus.
Apart from that are the following tips.
The Stock Is Awesome!
AK 47 airsoft guns have so many designs in their stock. They have longer barrels compared to many other rifles that you could opt for. An AKM will easily stretch out to about 455 mm on their inner barrel while most AEGs also have 300 mm inner barrels or higher.
Easier Upgrade

It is true that many AEG AKs will come minus precision barrels. However, they are pretty easy to upgrade. However simple the upgrade may seem you will easily get a better range and a classical shot too.
Take an example of the Tokyo Marui AKs and the Version 3 gearboxes that you can always upgrade anytime you want to. Inner gun barrels are also easy to come along, and you will easily boost yours without incurring too much cost.
Old School Touch Rocks!
A little bit of wood on the gun rocks – albeit it actually does for me. It gives the gun a super cool touch that makes the metallic sections to really stand out. This blend gives the best budget ak 47 guns a unique touch and quality.
Top 3 AK 47 Airsoft Gun Reviews
Here are the top rated airsoft gun reviews –
1. Soft Air Tactical Kalishnikov Electric Powered Rifle – Best Airsoft AK 47 Overall

The Soft Air Tactical Kalishnikov Electric Powered AK47Airsoft Rifle is the best airsoft ak47 and best airsoft ak gun for any gamer. The Kalashnikov Tactical AK47 brings with tons of special features that guarantees top most durability, reliability, and accuracy that any competitive airsoft game demands.
It has a full Kalashnikov design with additional trademarks and logo. Its inner barrel has a cool length that measures up to 455mm.
This top rated AK47 is actually designed with top notch accuracy in the designer's mind. Even better, the fore-grip is also made up durable nylon fiber which also gives it a foldable edge over many other simulation guns.
More importantly, the gearbox is made out of metal which not only adds on the gun's stylish design, but which also leaves it with a unique combination of durability and class among other things.
Nonetheless, many people love this airsoft gun since it is fairly light in weight and comes in at a meager 7 pounds. This means the gun has a more realistic touch that allows you to carry it all through the gaming time.
And don't worry about the designed as it is simply too easy to work with. Thanks to the easy to access hop up.
Its muzzle velocity lies within 330 and 380 feet for every second. It is an electronic airsoft gun and will offer you semi-auto or even full-auto modes upon firing.
The gun's magazine has a high capacity that holds a maximum of 600 rounds of the gaming pellets.
Many users have reported this AK47 to be incredibly powered. It never loses strength and that its trigger is pretty easy to pull. Indeed it only half the pound that other shooting guns will need to fire.
NOTE: If you are the airsoft player with the milsim strategy – this is your gun.
| Pros | Cons |
| --- | --- |
| Good muzzle velocity | Rails are reported to be in a poor position |
| Noise reduction features | |
| High capacity magazine | |
| Folding/ removable fore-grip | |
| Highly accuracy | |
2. Double Eagle Metal Electric Automatic Airsoft Assault Gun (DE Ak-47S)

Milsim players who love simplicity, top rated accuracy, and ease of operation will actually enjoy the use of the Double Eagle Metal Electric Automatic Airsoft Assault Gun (DE Ak-47S). No wonder it is not only listed as the best ak 47 airsoft gun for beginners but also for sharpshooters.
The guns metallic design maps out a classical design that gives it a high class touch of style and looks.
Nonetheless, it isn't heavy and weighs just about 7 pounds. More importantly, the gun is about 34 inches at full length and boasts of a 455-millimeter inner gun barrel.
Many users have however loved the DE Ak-47S because of its rear metallic folding stock which gives them the utmost flexibility for any game play that they have chosen.
It has a slightly lower magazine capacity as compared to the rest and will only hold up to 400 rounds of pallets. The muzzle velocity is also low but pretty good for many beginner games at 380 to 400 feet in a second.
The gun also has an adjustable hop-up and the capacity to perform on either semi or full auto mode depending on what you are gunning for.
Thanks to its reinforced internals this is a reliable gun for every game!
NOTE: One of the best airsoft ak 47 for beginner gamers with a collapsible stock that gives you an easy-to-use operation.
| Pros | Cons |
| --- | --- |
| High velocity with maximums of 400 feet per second | Lower magazine capacity compared to the rest |
| 400 round magazine capacity | Slightly heavier than the rest at 7.5 pounds |
| Reinforced internal design | |
| Gear wind-up design | |
| Budget-friendly bestak 47 airsoft | |
| Semi and full auto modes | |
| Versatile for any type of gameplay | |
3. BBTac BT-022 Airsoft Fully Automatic Electric AK Rifle – Best for Beginners
The BBTac BT-022 Airsoft Fully Automatic Electric AK Rifle is the best playing rifle for beginners. Thanks to its electric design with an auto semi firing mode and an in-built safety mode.
The cheap airsoft ak47 which is one of the latest arrivals in the market is indeed a reliable Airsoft rifle with a metallic design that not only amps the style but also ads onto the level of durability that the gun enjoy.
The gun is equipped with an infra-red light that gives it a unique touch for every gamer that desires an utmost thriller when playing.
More importantly, it comes with a full logo on its back that gives every gamer a style and design of their own.
The velocity muzzle has the minimum of 380 fps and a maximum of 410 fps. The gun has a high capacity magazine capable of holding over 300 rounds of gun pallets.
This is also one of the best budget ak47 that you can buy for Airsoft. It measures 36 inches, weighs slightly more than 7.5 pounds and has a side door that will come in handy in case you intend to hold extra ammo.
Buying this rifle is the best thing that can ever happen to you as it comes with many other cool accessories including safety glasses, holding sling, and a spotlight.
NOTE: Best for the player who has just joined the game. A beginner with a passion to rule the platform and insert their authority!
| Pros | Cons |
| --- | --- |
| Front and rear sights are adjustable | Low magazine round capacity at 300 rounds |
| Durable polymer receiver | |
| Railed hand-guard | |
| Good muzzle velocity of up to 410 feet per second | |
| Durable metallic build up | |
| Has a Semi-auto mode and Safe Mode design | |
Best Airsoft ak 47 Buyer's Guide
When buying the bestak 47 airsoft gun there are very many things that you will have to look at before spending your money. They include the following.
Need
Ask yourself; why am I buying my Airsoft Gun? If you need the gun for shooting the bottles and may cans on your backyard they you don't have to spend so much really. Any cheap airsoft ak47 model will actually do.
But if you plan on competing with your friends in a top rated airsoft match then we suggest you invest in a pricier model with additional accessories and equipment to make your game enjoyable and with an added advantage.
Upgrading
Another thing that you should also consider is whether or not you can upgrade your gun by installing an add-on or gun attachments. An ak-47 airsoft gun that can be easily upgraded will be awesome as you don't have to spend additional cash on new models unless you want to.
In case you want an upgrade, here is advice, buy your airsoft gun from those manufacturers that will also sell the compatible gun accessories.
Design
Any airsoft gun is best looked at by its design, accuracy, and durability before you choose to actually buy.
There are a few different designs in the market that you can actually work with if you are looking at an airsoft AK 47s. Designs are based on the gun use and sometimes the gun's intended aesthetics.
Therefore depending on your playing strategy, you should get an airsoft gun that gives you the thrill that you need.
Remember, an airsoft gun is the best alternative in case you are looking at the best military feeling without necessarily using any live ammo.
Capacity
The magazine capacity is also very important. In case you don't want to live up to a shorter thrill when shooting, using an airsoft gun with the larger magazine will be very important. Personally, I use guns with 600 rounds magazine capacity as they give me more playing time before I can replenish my supply.
Metal Body
While we have a number of plastic airsoft guns too that you can actually buy, the best airsoft AK 47 guns will boast of a metallic body.
Plastic designs will be great for the beginner for which they are actually reserved. Compared to metals, plastics are extremely brittle; they will easily break, and will not last as long as their metallic counterparts will.
In case you decide to start, you can always start from the plastic body before actually upgrading to a metallic body.
Muzzle Velocity
You want a fast airsoft gun. Speeds of between 380 feet per second and 420 feet per second will be pretty much safe for various shooting expeditions. They are secure and fast enough to guarantee a real-time thriller.
LTC Style
The two major type's airsoft AK 47s are Tokyo Marui and LCT. Tokyo Marui is however difficult to disassemble, clean, and reassemble – due to its many screws. The LCT is however simple to open up as it uses only pins and not screws.
The LCT has an additional thrill with its live ammo AK 47 touch and will give you a much more realistic feeling when you are using it.
Power
The most powerful airsoft gun is the gas-powered gun. It uses an internally built canister that will release gas in order before it propels the BBs in a fast forward motion. However, the designs with a folding stock are usually for those players who would love to shoot from their hip upwards.
Type of Stock
You should also look at the stock and decide between using the tactical and sticking with the wooden design. But that is often based on the guns aesthetics preferences. Just keep in mind that the two come with some weight differences too.
Ak-47 Airsoft Gun: Additional Tips You Should Know
What are the Benefits of Using the ak-47 Airsoft Gun Over M4?
Both guns have advantages. But in overall, the AK 47 is a better choice when spoilt for choice. It is the personal preference for many gamers and here is why.
Durability
When it comes to durability, the best ak 47 airsoft gun is virtually much more durable than the M4.
For starters, the AK 47 is typically forged from stamped steel. This means you cannot break it easily. This is better than the M4 which doesn't have such level of steel construction on its design.
In addition to that, the AK 47 uses enhanced reinforcements along the piston head which the M4 doesn't actually use.
The piston head often gets so much pressure which gives it a high breaking tendency. The reinforcement that the airsoft AKs have regulates this and allows the piston to last than that of an M4.
Accuracy
If you don't care so much about durability when buying an airsoft gun, then it's important that you pay a slight attention to accuracy.
Between these two guns, the airsoft AK 47 has a hop-up unit that's usually screwed into its outer barrel. This is unlike that of the M4 whose hop-up is spring-loaded and often set against the gearbox.
Read also: Best Spring Airsoft Pistols
In addition to that, the best airsoft ak47 will also have a slide-based hop-up design that's easy to adjust/ clean. This is unlike that of the M4 that requires so many technical adjustments.
What is the best AK-47 on the market?
There are very few AK-47s that you will find on the market today. What I must point out is this, irrespective of all that, all airsoft AKs are the best in the market.
They are in the very least AKMs and much more substantially the modern AK-74 variants. Your choice will, however, depend on your needs.
Soft Air Tactical Kalishnikov Electric Powered AK47Airsoft Rifle for the instant is pretty much rated. AKs with TM and CYMA kits are also some of the best airsoft ak 47 in the entire market today.
What is the Best airsoft AK for a beginner?
From our reviews and ratings, the BBTac BT-022 Airsoft Fully Automatic Electric AK Rifle takes the trophy home. Thanks to its semi-automatic mode, low torque, and virtually a safe mode design.
Conclusion
AK 47 is a Russian-designed military weapon. It came in during the World War II and the number 47 is attributed to the year that it was first manufactured (1947). The AK before the number stands for "Avtomat Kalashnikova," that means an "automatic weapon of Kalashnikov" in Russian.
The weapon was designed by Mikhail Kalashnikov who was a soldier. His sole intention was to design a firearm that would compete with the Germans.
Until today, the gun and its design have been tapped by many games and players alike. In a more realistic view, the gun has provided a reliable and easy-to-use rifle that has given rise to some of the best players all over.
Thanks to its reliability and also durability, the AK has for a long time been a popular style gun for many gun designs. And while the ammunition used in the best ak 47 airsoft gun isn't the exact same as in live ammo, the gun's design remains the same and gives you the best thriller any day.
Take a back seat and enjoy your new best budget ak47. It is the players' world and our reviews will give you the best.
Relevant Article:
Best airsoft pistols