Usually, the airsoft pistol or gun is a replica weapon that used in airsoft sports. The tool is constructed with plastic along with the biodegradable resin.
Maybe, you are not using your spring airsoft pistol for many days. And the result is, it gets jammed! Or else, it has broken down by falling from your hand. Whatever the issue is, we have solutions for you! Sooth to say, there is not much trouble at all.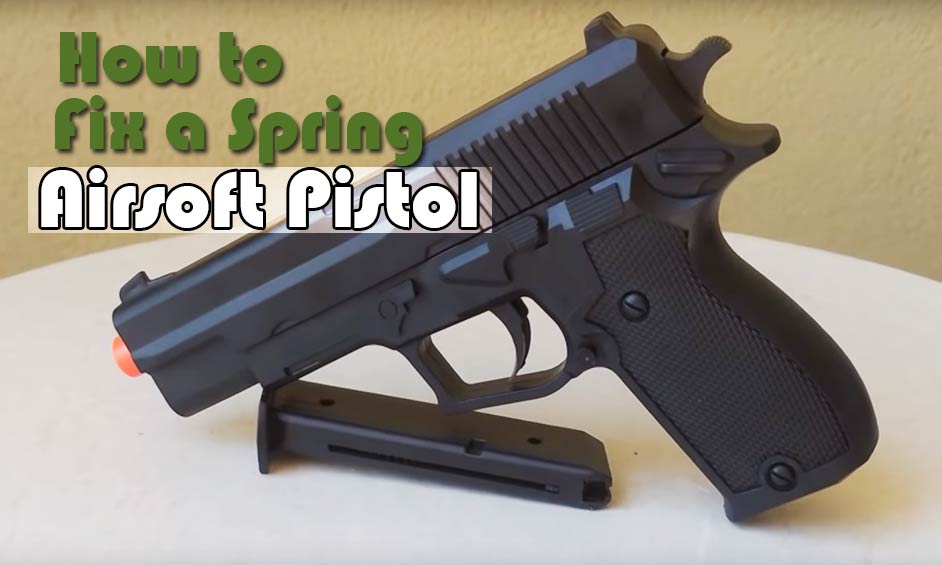 In this Article, airsoftoptics.com will discuss many things. Like, we will talk about how to fix a spring airsoft pistol and as well as the rule of unjamming the gun.
How to Fix a Jam in a Spring Powered Airsoft Pistol?
As we mentioned before, it is relatively easy and hassle-free to unjam the gun that you are using. But at first, here are some common things that you have to look before, like:
Do you have misshaped or dirty pallets?
Do you feel that the hop is tightened up excessively?
Is the barrel loaded with a massive amount of dirt?
These can be the most usual syndromes of jamming. Now, we are going to show you some necessary steps to unjam your spring powered airsoft pistol:
Step-1: Do not try to fire again if it got jammed. Or else, the gear and piston can be broken.
Step-2: You have to check the barrel properly to see if any hard or damaging objects are clogged inside.
Step-3: Then, you need to turn off your hop.
Step-4: You can take out the magazine for your convenience.
Step-5: Find out a rod or a fragile object that fits perfectly with the barrel. It can be either a thin pipe or a paintbrush.
Step-6: Cocked the gun into an upside-down position.
Step-7: At last, insert the pipe or paintbrush and push it thoroughly up and down.
Maybe, you are done. Try out a couple of shots without inserting any ammo. If you feel that the sound is clear and usual, then test for a fire by adding an airsoft bullet.
How to fix a broken spring powered airsoft pistol?
Trigger, gun, or pistol, whatever you call it is, the process of fixing is the same. The spring-powered airsoft pistol is relatively cheap and perfect for a beginner. They don't require batteries or gas at all!
We have made a short yet useful guide about fixing a broken spring powered airsoft pistol:
Step-1: Adhesive things are needed
At first, you have to collect a regular scotch tape as well as some glue.
Step-2: Attach the springs
It would be best if you put the last spring on its position by attaching with a plastic. Glued it carefully. Take the least time for drying up.
After that, attach the final spring that stands on the top of the gun.
Don't try to use the glue on the top spring even though it feels flimsy. Because if you hit some glue on the top spring, then it will be unable to load for the next firing!
Step-3: Cover the gun
It's time to cover up the gun. Take the plastic models and cover the arm entirely. Here-after, use the scotch tape for holding the gun effectively.
Step-4: Time for firing
After completing the fixing task, you can try out for a fire. If you feel that it's okay, then you can use the spring-powered airsoft pistol as usual.
Read also: 10 Best Spring Airsoft Pistols
Note: Don't ruin this gun by using it in the water!
Now that you know how to fix a spring airsoft pistol, we hope that this write-up will help you to get rid of jam in a spring-powered airsoft pistol. Moreover, you can quickly fix the broken powered airsoft pistol as well!