Coming home empty hunted from a coyote hunt isn't uncommon. After all, coyotes are tricky, elusive, and ever adaptable predators. It takes more than basic hunting skills to pin one down.
Tell you what there's a secret to a successful coyote hunt. Believe it or not, it all starts with the type of gun you're using for the hunt. After all, not all rifles are designed for the job, right?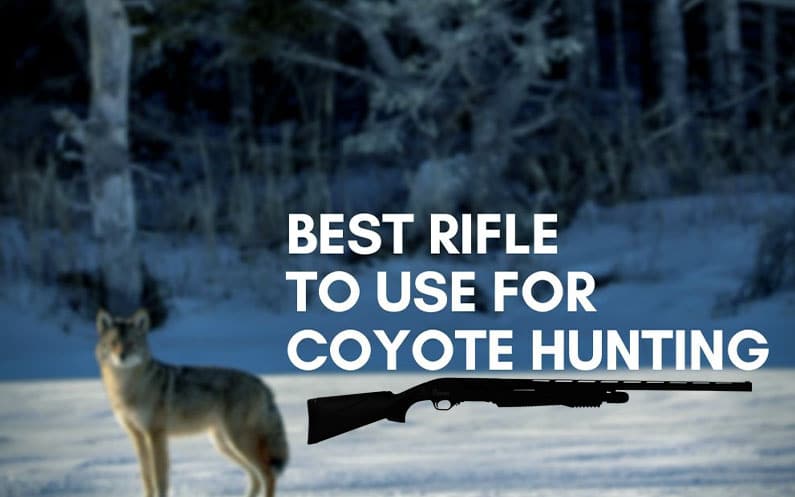 So far, the question that should be ringing in your head is – what gun to use for coyote hunting? Let's be clear on one thing, coyote guns come in a variety of sizes, shapes, and calibers.
In this article, I'm going to round up the best rifles for coyote hunting and you can also check best scope for coyote hunting with ar , And by that, I mean the best in any coyote hunting scenario. Good news is that it doesn't take a big wallet to get one.
[lwptoc]
7 Best Rifles for Coyote Hunting
Let's cut the introduction short and get into the game ! We researched for helping you to find coyote hunting rifles within sort time .
1. Stevens 320 Turkey Gun
Big woods often call for a close-range shooting. So it's time to ditch the long-range rifles for a shotgun. Stevens 320 is one predator shotgun you should be itching to get your hands on. This rifle has a short barrel that's easy to hold and aim.
The fore-end and stock have Mossy Oak camouflage that won't spook coyotes. With a proven rotary bolt action, Stevens 320 is a mean machine in its own right. Price is perhaps the most attractive feature of this shotgun. You get it for significantly less, which makes a real catch for dual-season entry-level coyote hunters.
Features and Specs
Type: Shotgun
24-inch barrel
Four-round magazine
Accuracy: up to 50 yards
7.5 pounds
2. Axis SR

Axis SR is no doubt a rifle that lives up to its name. It's a versatile rifle designed to counter the ever-adaptable coyote. Sleek contours and easy-to-control grip give it a modern update. The barrel is threaded to fit a suppressor where the hunt calls for quiet and great discretion.
Button-rifled design for the barrel provides on-point accuracy. Axis SR is fed by a four-round magazine. This rifle can handle 40 to 75 bullets. It's within the affordable category and you get it in both left-hand and right-hand models.
Features and Specs
Type: Bolt action
22-inch barrel
Four-round capacity
6.5 pounds
Accuracy: 50-100 yards
3. Remington Model 700 SPS Tactical

Remington guns need no introduction, and 700 SPS tactical rifle lifts the good reputation even higher. From the name, this rifle is meant to serve in law enforcement tactical operations. But then, that doesn't stop it from earning a slot among best coyote hunting rifles.
700 SPS is a highly maneuverable rifle for the serious coyote hunter. This is no rifle for the average budget hunter. But, let's face it – the specs and features of this rifle speak for themselves. For instance, you get an adjustable trigger for accurate shots and a proven compact bolt action. I mean, it's worth all the pennies spent!
Features and Specs
Type: Bolt action
Externally adjustable trigger
16.5-inch barrel
7.25 pounds
4. Howa Hogue Ranchland Compact

Here's a compact rifle that you can grab in a hurry for a quick shot. It's one of the best coyote hunting rifles for tight spaces and awkward positions. What's more, you can tuck inside your truck without a hitch.
A contoured barrel gives this rifle a sleek, modern look. There's a one-piece scope rail that makes for easy optics mounting. Howa weighs in at 7.15 pounds when empty. However, that doesn't stop it from earning a spot in the lightweight category.
Features and Specs
Type: Bolt action
Best for tight quarters
20-inch barrel
7.15 pounds
5. DPMS Sportical
Enters DPMS Sportical – a lightweight, straightforward semi-automatic rifle with a simplistic design. The rifle comes with a variable scope, so, chances of a coyote escaping your shot are limited. You can use it for close-range shots, or shots that reach out to at least 400 yards.

The buttstock length is collapsible and adjustable to fit the situation at hand. The price of this rifle is slightly above the "budget" spot. Well, that doesn't come as a surprise. After all, it's a hot setup for professional coyote hunters.
Features and Specs
Type: Semi-automatic
Variable power scope
More than 400 yards range
16-inch barrel
6.3 pounds
6. DT Sport Optic Ready

Del-Ton Sport is a wallet-friendly semi-automatic rifle with lots of sight options. The scopes mount quickly just in time to nail the elusive coyote. You can switch the scopes to a detachable carry-handle sight for added versatility.
The buttstock is adjustable to six positions making it easy to transition into different firing positions. This rifle can double as a compact carbine for home defence.
Features and Specs
Type: Semi-automatic
6-position adjustable buttstock
Multiple sight options
16-inch barrel
5.6 pounds
7. Henry Varmint Express .17 HMR
So far, we've looked at bolt action rifles, semi-automatic rifles, and shotguns. I think it will be a good idea to close the list with something different, in this case, Varmint Express .17 HMR. It's a rimfire that offers excellent craftsmanship, durability, and accuracy.
The rifle has become a staple among ranchers and makes a good option for coyote control. It handles well at a range of at least 150 yards. Less wind drift and flatter trajectory provide all you need to get the job done.
Features and Specs
Type: Rimfire
20-inch barrel
11-round capacity
5.75 pounds
Frequent Asked Questions (FAQs)
What caliber is most preferred for coyote hunting?
22-250's are the most ideal. You get a fast, flat shot with minimal damage on impact.
What type of ammunition is ideal for use?
Use ammunition that's highly fragile to minimize pelt damage.
What's the best time to hunt coyotes?
Any time works. However, the best time to hunt coyotes success rate is high during the night since coyotes are normally on the prowl at this time.
Now you have your answer regarding what gun to use for coyote hunting. As you've seen, there are versatile options to accommodate different needs and hunting situations. Remember, a good rifle with great hunting skills make a perfect combination for this.