Compact spotting scopes don't come cheap. Even average ones will make you fork out a couple of hundred dollars. So, wouldn't it be frustrating to spend hundreds of bucks on a spotting scope only to discover out later that it doesn't match your demands?
Surely, it would be. Now, you don't want things to reach that stage. What you want is a first-rate long range spotting scope which offers plenty of bangs for the buck. Right?
But to find a gem, you must know what you are looking for hat's why I'm going to share some of the most important aspects of a compact spotting scope that you must know about.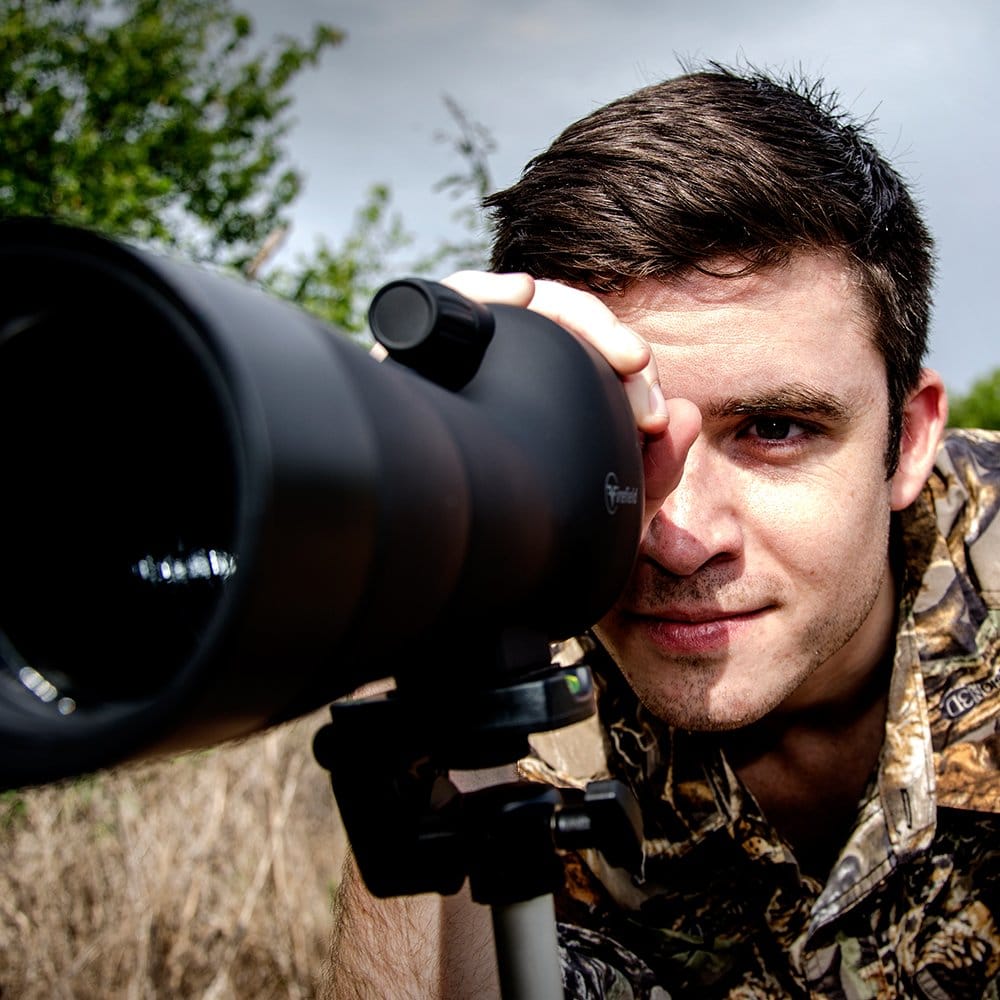 In this article, you will learn about compact spotting scopes, its usage and which factors to consider before making a purchase. Let's get started.
[lwptoc]
What Is Compact Spotting Scope?
Spotting scopes are high-powered telescope used for long distance viewing. In other words, it's an expensive Airsoft Optics that enhances your vision allowing you to eye up preys or watch picturesque sceneries from a considerable distance.
Sounds cool, eh?
But there is a problem; it feels enormous and quite heavy. Besides, a tripod will be required to stabilize the optics. All these extra pounds are bound to slow you down and cause fatigue — a massive problem if you are hunting or hiking.Don't worry! There is a solution which we call; compact spotting scope.
These lightweight scopes are way smaller than the regular spotting scopes. As they measure less than 13 inches and weigh less than 40 ounces, you can store them in a carry bag and operate them by hand.
On top of that, they cost far less due to their downsized features.
Where to Use It?
A compact spotting scope can be used for several purposes. Below are some instances where a spotting scope will come in handy.
Compact Spotting Scopes For Hunting
To catch a game, first, you need to see it.But you must keep your distance. For, your footsteps might get picked by the animal and cause it to take flight.
A binocular is good enough for only smaller distances. However, a good spotting scope will be needed to stalk target from great distances. Hunters will love its free-hand feature. Due to being light and small, it can be used by hand which allows you to spot the target quickly.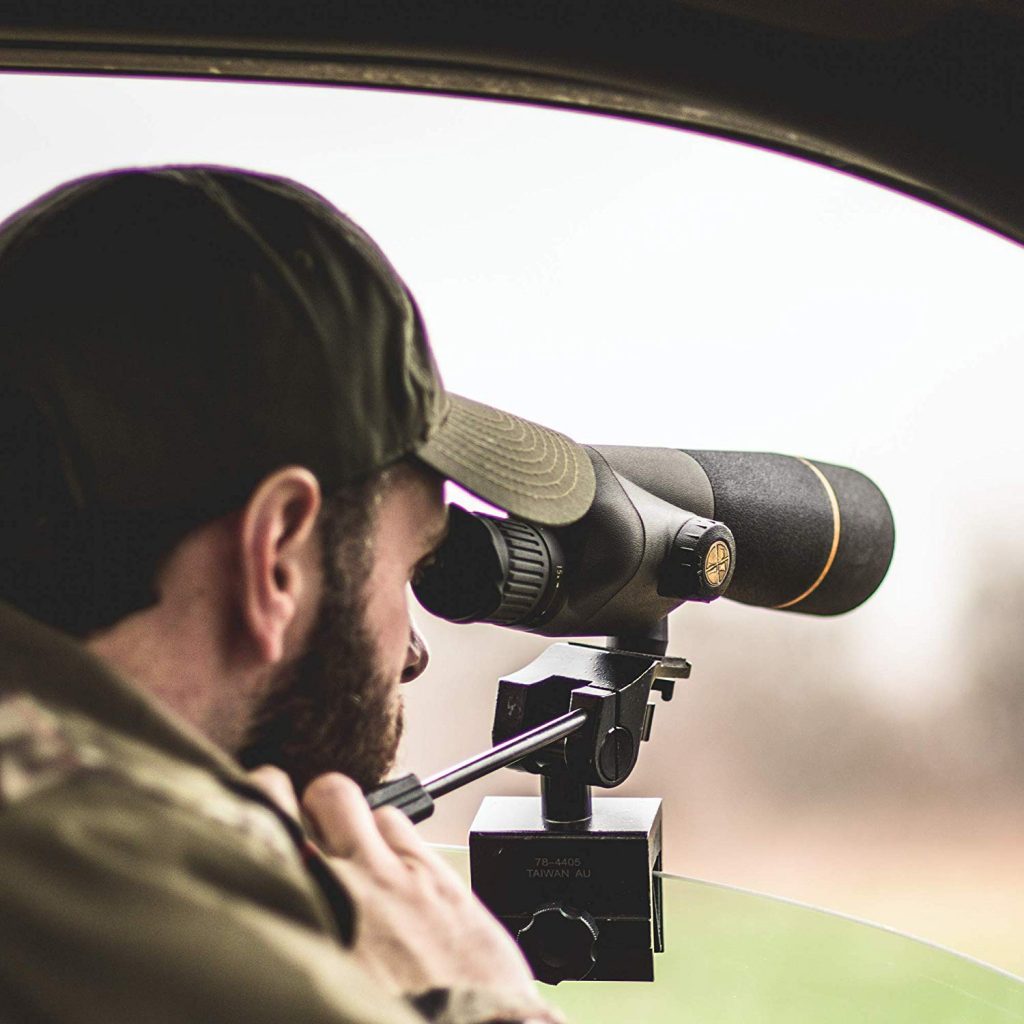 Compact Spotting Scopes For Birding
While binoculars are the traditional go-to device for birders, spotting scopes are nowadays getting increasingly popular.Thanks to its higher magnifications, which can reach up to more than 60x, detailed and accurate observations of birds can be made easily.
With binoculars, you are only able to watch a bird, while with the help of a spotting scope you can do much more – such as identify the bird or look it in its eyes.
Read also : Tips for Enjoying Wildlife with Spotting Scopes- Don't Miss It
That's why birdwatchers that look to improve their birding experience are turning to spotting scopes more and more.
Compact Spotting Scopes For Digiscoping
For those who don't know what digiscoping is, it's an activity where you take distant pictures by coupling a digital camera with a spotting scope.
Let's say you want to record live movements of some wild and ferocious animals such as jaguar and Cape buffalo.
Would you gamble your life for some silly photos?
Definitely not.
But what if you could capture all the actions without putting yourself into danger?
Now, that sounds a reasonable proposition. And a pair of compact spotting scope can make all this possible.
By pairing the camera and the spotting scope, you can sit back and take all the picture you want from hundreds of yards away.
Usage of the spotting scope is by no means limited to only hunting, birding, and hiking. There are several things including target shooting (which I'm going to discuss later) that you could use such optics for.
How To Use It?
No expertise or advanced knowledge is required to use a spotting scope. That's why operating the device should be a piece of cake even for beginners.
Here are a few tips to get things easier for you:
The Things That You Must Consider While Buying a Compact Spotting Scope !
---
Okay, time for some important notions that you have to have engraved in your memory before you proceed with a buying decision. Scroll below and read carefully.
Design Perspective : Angled Vs Straight
You will have two types of spotting scopes in the market; Angled Vs Straight.So, which one is better?
Unfortunately, there's no definite answer, as it depends on your preference and its intended application. What if you are a beginner and haven't formed an opinion yet?
Well, no need to get upset as I'm going to discuss the pros and cons of both type of spotting scopes.
Advantages And Disadvantages Of Angled Spotting Scopes
More suitable for glassing up hillside terrain.
Perfect for setting up on a short tripod.
Ideal for pairing with a digital camera on a digiscoping setup.
Can be shared with other people.
Great for sitting positions.
Can pick up snow and rain in bad weather.
Not suitable for glassing at an extreme downward angles.
May prove difficult to fit into a backpack, Especially if it's already full.
Advantages And Disadvantages Of Straight Spotting Scopes
Easier to spot game while hunting.
Feels comfortable to look at downhill angles.
Eyepiece doesn't catch rain or snow in bad weather .
Perfect for mounting on a vehicle window
Can strain your neck when looking at uphill angles .
Ill-suited to smaller tripods .
The Best Elements In A Compact Spotting Scope
Glass Quality Is Important
Quality of glass is critical to the performance of any spotting scope.
High-performance glass such as ED glass, HD glass, and Fluorite glass improve the image quality along with significantly reducing eye strain.
However, you have to consider how much money you are willing to spend as the cost is likely to tip over to the pricey side of the things.
Your Preferred Coating
The quality of an objective lens is mainly determined by the coatings used on it. For, coatings reduce light reflection and boost up the light transmission, which results in high-quality visuals.
There are several types of coating available. Let's get to know them:
Coated Lens: In the coated lens, a flimsy anti-reflective coating is used on either or both side of the lens surfaces.
Fully Coated Lens: At the very minimum, one anti-reflective coating is used on each side of the objective and ocular lens system alongside the longer side of the prism.
Multi-Coated Lens: When several layers of coating are used on either or both side of the lens, it is called a multi-coated lens.
Fully Multi-Coated Lens: Several coatings are used on all the surface of the lens. The fully multi-coated lens is the best option for reducing light reflection and is usually a feature of high-end scopes.
The Right Magnification Power
The magnification power of a compact spotting scope ranges from 15-50x. You might be wondering if the bigger is better.Sadly, there's no black and white answer.
First of all, the bigger one is not necessarily, the better one. Since, increased magnification means reduced field view, drop in image quality, blurriness, and several other problems.
Granted, you can overcome these issues with a high-end optic, but why spend extra when a smaller magnification range can do the job equally well. Secondly, you need to consider the distance you are going to the glassing from. For greater distances, you will need to buy a spotting scope with higher magnifications.
Convenient Weight
In this case, lighter is better. A lightweight spotting scope is easily portable and allows you to move around freely. The weight of a compact spotting scope should not exceed 40 ounces.
However, spotting scopes that weigh as little as 15 ounces are available and may suit your purpose better.
Correct Length
The length of a compact spotting scope should be no more than 13 inches.
I'd suggest that you go for 7-8 inches as they will be easier to carry around in a backpack.
Free-Hand Usage
Due to their small size, compact spotting scopes can be used as a hand-held device.
Free-hand use proves convenient for hunters as it allows them to spot the targets quickly and without any fuss.
On the flip side, it can blur the image with the slightest of movement, which can ruin the whole thing.
Eye Relief For Good View
For the uninitiated, eye relief is the distance between the eyepiece and your eyes.
Now, it's a very important factor to consider, especially for people who wear glasses.
Without sufficient eye relief, you won't get the full field of view and will struggle to watch continuously.
Therefore, the eye relief should be at least 14 mm, which will allow the goggles-wearing individuals a proper field of view.
Proper Exit Pupil
If you hold the eyepiece to light, a bright circle will be apparent to you.
Yes, that's the exit pupil. Anything less than 3mm will make the image a little darker.
Overall Quality
The size of objective lens should be no more than 50mm. Anything larger will make the device heavier and difficult to carry.
Besides, the bigger the objective lens gets, the more expensive the device becomes.
Conclusion
Ultimately what counts is the overall quality of the Airsoft spotting scope features . Ask yourself, if the device is up to the scratch and fulfills all your requirements.