Wildlife is a way of entertainment for adventure lovers. This is true! For a huge number of people, watching wildlife is interesting and fun. People are crazy about watching birds, wolves, bears and etc. Trust me or not, only America has more than 4.5 million birders who love to be in wild.
Well, wildlife viewing is all about keeping yourself safe and capture all the interesting moments without harming and disturbing the animals. But without getting closer to an animal, how can we see them?
As a solution to it, the adventure lover uses the spotting scope. Even in a lot of forests, the authority strictly says to use a spotting scope or binoculars for a closer view.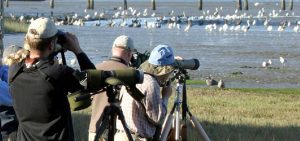 So, for having a better wildlife experience, high quality spotting scope is the must. Now, if you're a new scope user, how can you have fun with it?​
For the reason, we came up with this brand new article where we'll be sharing how you can enjoy wildlife with your spotting scope.
So, let's get into it!
Why Spotting Scopes Not Binocular?
So, you may think, we're being biased. Otherwise, why would we write on spotting scope where binocular can be used too? For clearing all your doubts, we're going to explain it below.
According to many experienced people and companies, a spotting scope is a modern and updated version of binocular. Besides, all the features of binoculars, it was a lot more updated features too. That's why people call it portable or mini telescope too.
In wildlife, you'll see various type of birds and animal. Now a binocular can take you closer to the animal but because of the low objective lens and magnification power.
It's tough to recognize rare animals and birds. That's why a spotting scope feature is something that will give you the best performance.
On the other hand, a spotting scope something that is easy to carry, light in weight and have all the features that give you comfortably while birding or capturing wildlife.
That's why almost everyone recommends the spotting scope for wildlife capturing.
Aren't you convinced yet? Do you want to learn more or want to know why a spotting scope is a must? Then the next section will open your eye.
Why Should You Use a Spotting Scope in Wild?
Well, there are a couple of folks, who thinks getting spotting scope for wildlife is a waste of money. So, here are some reasons that'll give you a strong statement that why you need a spotting scope. Want to know more? Read below!
• For your own safety: Some animals are harmful. So, watching them from a close distance is like inviting death. That's why we recommend you to find a safe place then enjoy capturing the bird or animal with your own spotting scope.
• Not harming animal: Watching animals with naked eyes can make them annoyed or nervous. For giving them a chance to live like them, will give you a natural view and a real experience too.
• Image-quality: Sometimes with naked eyes, it's very tough to see anything clearly. At that moment, a scope will give you a clear view and real-experience that is almost impossible to see with naked eyes.
If I want, I can give hundreds of reason like this. However, these are the top three reasons that should clear all your doubts.
Now, let's move to the tips section.
How to Enjoy Wildlife with a Spotting Scope?
So, now it's time for the most awaited section. In the section, we'll be telling you, how you can enjoy more with a spotting scope in scope.
Now, let's get started. Shall we?
• Right place: It's the most important thing. If you are not in a right place then no matter which scope you're using, you won't get great viewing experience. Also, you have to be in a safe place where no wild animal can harm you. So, consider the viewing experience and safety while choosing a place.
• Understanding the features of your gear: Almost all the spotting scope has unique features. If you know and use all those features accurately then you'll get the best viewing experience, guaranteed! So, study well on your gear.
• Adjusting focus: Almost all the newbie face problem while adjusting focus. And most of the time, the problem isn't your gear, it's your eye. Maybe your eye isn't adjusting well. So, keep slowly twisting the magnifying knob, do it for one or two minutes. Slowly zoom in and zoom out, it'll help to adjust with your eyes. Keep doing it until you get the clear view you're looking for.
• Scope Angle: As we all know, the spotting scope is available in two types. Straight and Angle. Now, if you want to watch animals or birds from the car or if you want something that is easy to use then straight angle spotting scope is good for you. If you often visit wild with team or friends and enjoy the wild's view with everyone (while everyone will be using one scope) then angled scope is perfect for you. Why? It because people of different heights can use angled scope comfortably.
So, these are some points, if you keep all these in your mind, you'll have a great wild tour guaranteed. We also have some more tips for you. You should also follow all the tips I'll be giving below for the sake of the wild environment.
Here are the followings:
​Don't make any music or play music loudly. It pollutes the environment. Remember, wildlife has its beauty in the silence.
​Don't feed any animal. It's not good for their digestion. Let them eat foods that they regularly eat from nature.
​Don't attack or disturb any baby animal. Maybe, the parents of them are waiting somewhere for you leaving. If you harm them, the mother/father animal may attack you.
So, these are some tips you should follow. If you don't follow all these then you'll be painting the mark on you. So, follow all these if your life is precious for you.
Conclusion
Enjoying wildlife is fun but without a good spotting scope, the fun is incomplete. So, invest in a good spotting scope and learn more about your gear if you really want to enjoy the wildlife.
We hope, our article will help you to enjoy the wildlife. After reading the article, if there's anything popping up in your head, don't forget to let us know below! Cheers!