Night time is usually the hardest time to shoot, especially when you don't have any visual aid. Coincidentally, this also happens to be the time when most animals are active. Face it; no matter how skilled you are at using the gun, you can never be as sharp as the feline predators during the night.
So if you're really serious about hitting your prey, then you might want to consider getting the best night vision scope to go with your riffle.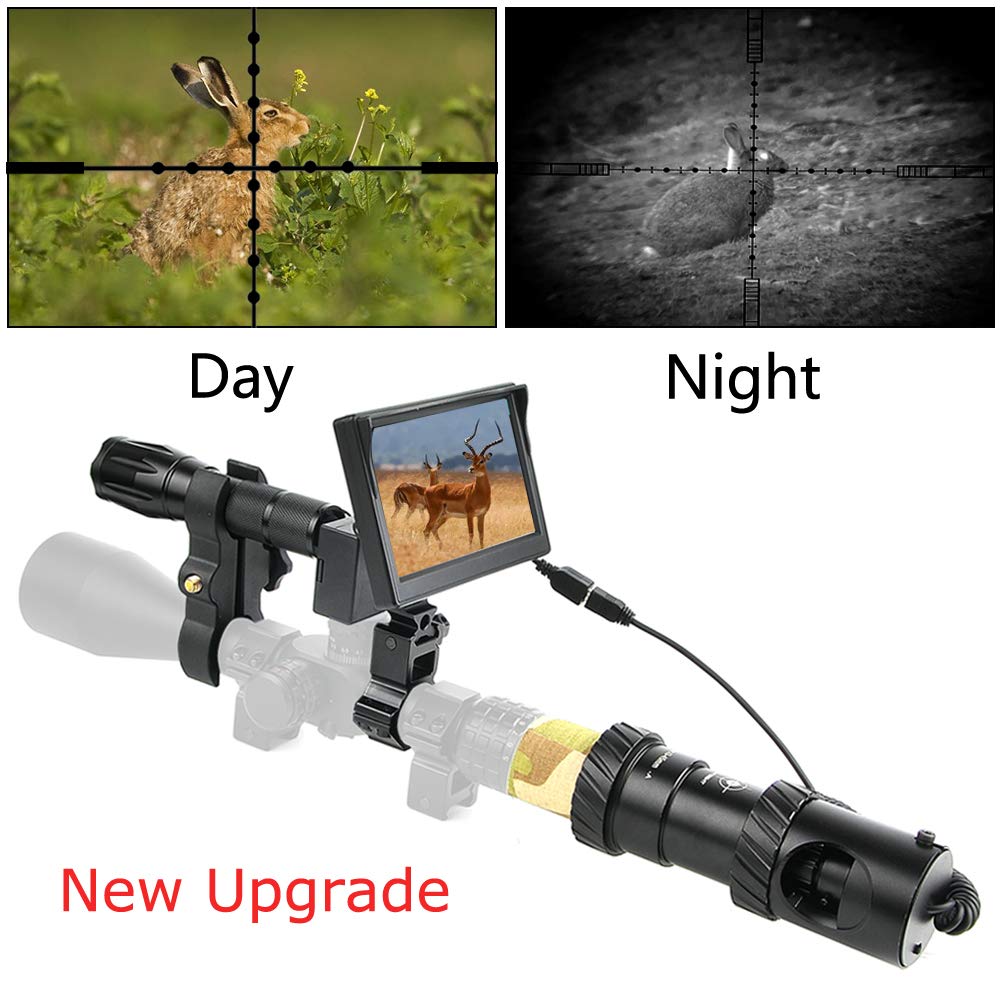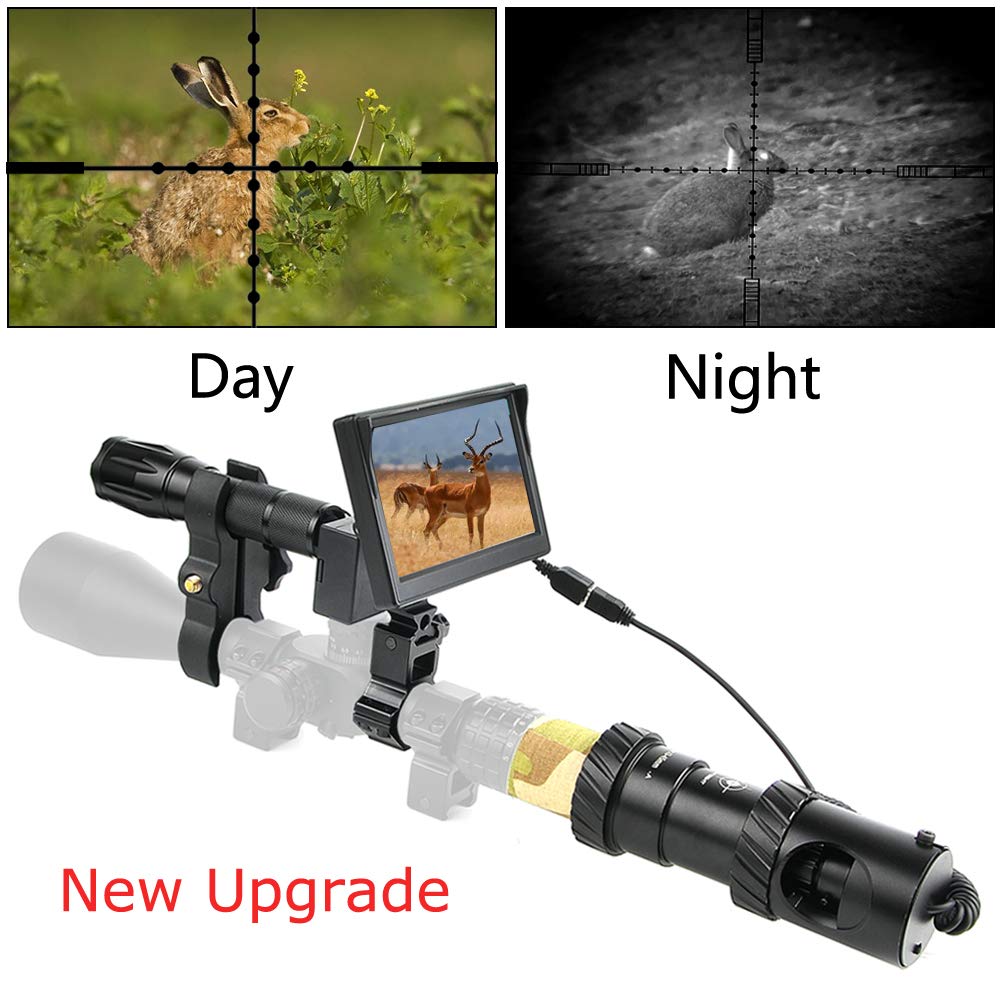 Night vision tools are definitely not new. They've actually been around for a long time. The night vision scope actually is one of the most recent technological improvements available today.
With a good night vision scope, hunting in the dark doesn't have to be a rat race anymore. And the good part is that you don't need to spend up to a thousand dollars to get such a scope.
Top 5 Best Night Vision Scope Under $500 Reviews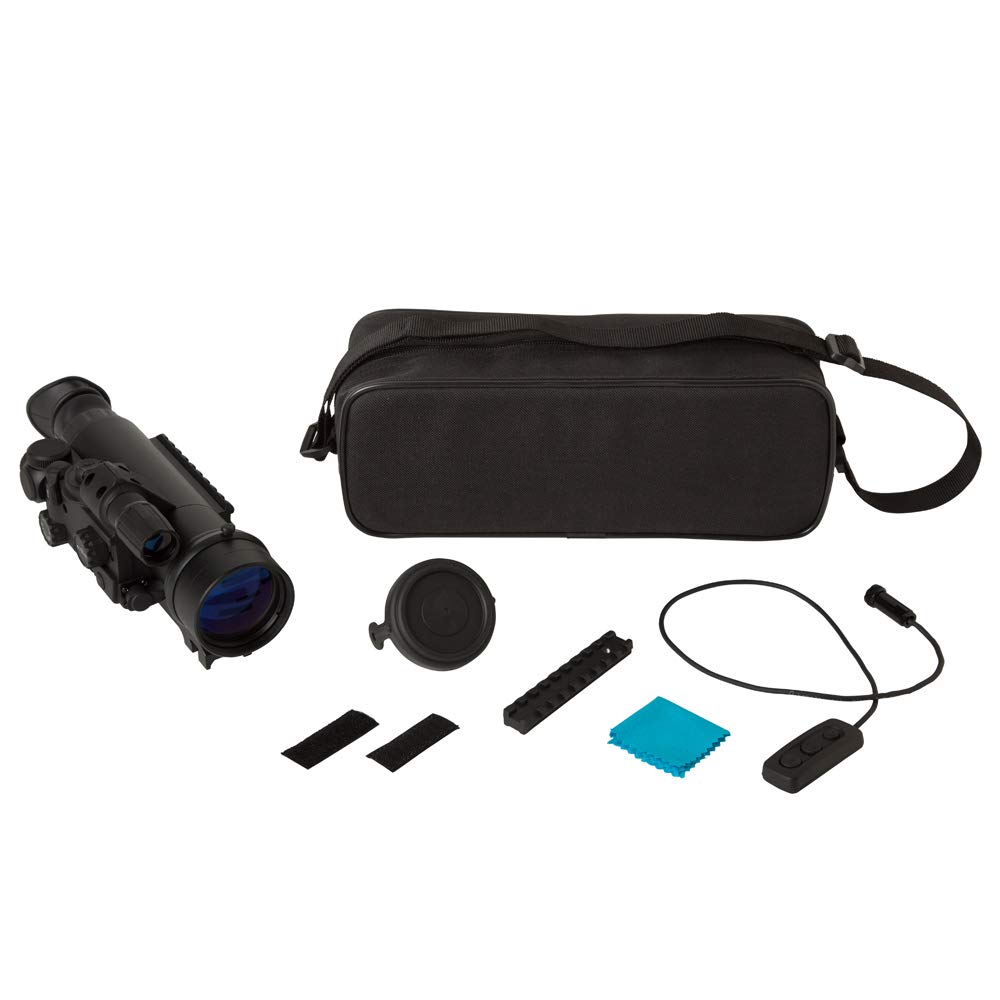 Just like with any other item, night vision scopes are often gauged on their prices. Usually, the more expensive the scope is, the higher the quality. And considering the fact that these scopes are generally pricey, it can really become frustrating for budget buyers to find affordable models that can do the job.
If you're in such a dilemma, then the solution you seek might just be found in the SM18008 Photon XT by Sightmark. This scope comes with a lot of interesting features that makes it one of the most qualified candidates for the best night vision scopes under 500.
One of the first things you will notice about this scope is its less bulky weight, which makes it ideal for lightweight carbines and various kinds of riflescopes. It also has a longer battery life span which is a major improvement when compared with previous generations.
The scope comes with a high magnification which makes it possible to get clear view of targets far away, while the 640×480 resolution helps to provide even more detailing.
Like some of the items on this list, the SM18008 features video recording. So you can record your adventures and share with family and pals. It will also interest you to know that the optic comes with six different reticle options with different colors to enhance your accuracy.
Another important feature worth mentioning is the lightweight design of the scope which makes it convenient to carry around for as long as you want. It's not like those bulky scopes that weigh you down after spending a little time on your feet.
Comes with a carrying case
Battery life is above average (around 5 hours)
Shockproof and weather proof
Has only black color option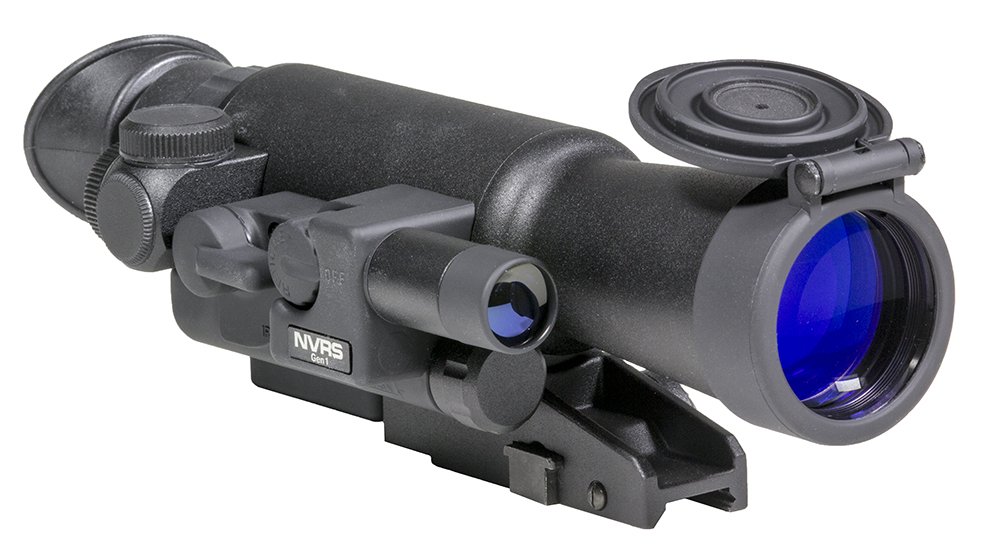 When it comes to hunting or target shooting, you are only as good as your sight regardless of your experience. This comes to bare especially when shooting in the dark. You can only target what you see, and without a good night vision scope to provide you with unparalleled vision, you will only be wasting your time.
This is exactly why optics like the Firefield FF16001 was introduced to the market. If you're looking for a Generation 1 vision scope that is without the bulkiness of many of its counterparts, then you would enjoy using the Firefield FF16001 NVRS 3×42 Night Vision Riflescope.
In fact, this is arguably the best 1st Generation scope you will find out there for night hunting. Although, it only has a magnification of 3X, it produces images that are quite clearer and more detailed than those produced by its counterparts. This makes it fair enough for hunting in the dark.
Like most night vision scopes, the NVRS comes with its own infrared illuminator which makes it still relevant in pitch darkness. Its compact design also makes it convenient to handle and quite easy to operate. The weaver mounting system and detach are other features you would find really useful.
It will also interest you to know that the body construction of the scope is made of titanium which obviously provides more strength than aluminum while still being lightweight and durable. The scope is also fog proof and waterproof, so you have absolutely nothing to worry about when using it in moist conditions.
Lightweight and durable titanium body
Comes with a carrying case
Magnification could be better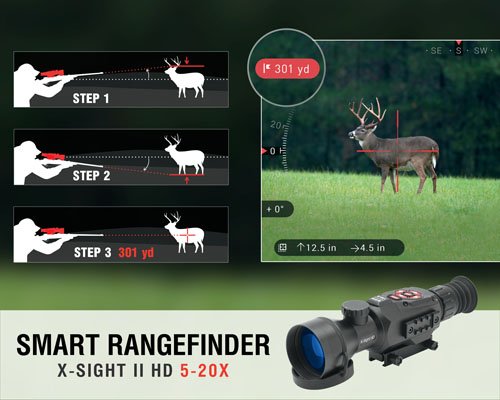 Even though night vision scopes are incredibly cool, the biggest problem with them is that they can be ridiculously expensive, spanning way more than what an average shooter would normally pay for. Luckily there are few exceptions. And one of them is the ATN X-Sight II HD 3-14 Smart Day/Night Rifle Scope.
Just as the name indicates, this optic works for both daytime and dusk, which means you don't need to purchase an extra scope to use during the day. But of course, the best part of this scope is the fact that it's available at a takeaway price, which makes it even cooler.
This rifle scope comes with a lot of interesting features that makes it more than just an optic for shooting or hunting. First of all, you should know that it works in any light condition, so it's not just a scope for night vision.
And whether you're using it in the night or daytime, the video and picture qualities will always be up to HD standard just like any other good digital camera.
Apart from allowing you record your hunts and take high quality images, the X-Sight II has a Wi-Fi capability which lets you stream your videos and watch them using other devices like your pc or tablet. Like many other high end night vision scopes, the camera has two color options – black and white or green.
So it's left to you to choose the one that appeals most to you. The scope has a magnification power that can be adjusted from 3 – 14 depending on your range and what you plan to accomplish. The Smooth Zoom feature helps to ensure that the transition is smooth and manageable.
Believe it or not, there are very few vision scopes that give you such power. It will also interest you to know that the camera reticle has 7 different styles which you can choose from.
A built-in ballistic calculator helps you to calculate the position of your target more accurately, so you will know where and how to place your weapon in order to aim and shoot precisely. If you're into varmint hunting, you might never find a better night vision scope to make your point.
Robust design enhances endurance
Produces high quality HD pictures and videos
A bit heavy especially for novice users
Battery doesn't last too long
Sightmark has always been known for their incredible reputation in the world of night vision scopes, which is why it comes as no surprise that another one of their products is appearing on this list a second time.
The Photon RT 6×50 is one of the reigning mil-spec optics for civilians and positions as an upgrade to the original Photon XT by the same company.
While there are many improvements to relish, the major one for us would be the possession of a 768×576 CMOS sensor which offers up to 40 percent more resolution than the previous model. This means you are going to get clearer images with the SM18016, as well as more detailing.
In the same manner, instead of a fixed magnification, the scope offers two magnification power, which enables you customize the field of view. The magnification power starts at 4.5x and can be zoomed to 9x.
The scope also features the same LCD display as the XT, as well as an audio and video recording. It also has a Wi-Fi capability, so you can stream your videos to other gadgets such as a laptop or smartphone. This is real cool as it allows you to record your hunting or shooting sessions and view later.
Like most high end night vision optics, the SM18016 is equipped with an 850nm LED IR illuminator, which ensures the scope still works even in complete darkness. In such situations, the scope will still be able to amplify the flashlight to target objects over 200 yards away.
You can also choose from any one of the 4 different color options of the reticle. It will also interest you to know that the night vision has a metal body construction that is both shockproof and resistant to moisture. This makes it suitable for heavy use and in harsh weather conditions.
Overall, this s a great scope for night hunting. For under a price point of $500, you couldn't ask for more.
USB port for charging with a power bank
Durable body construction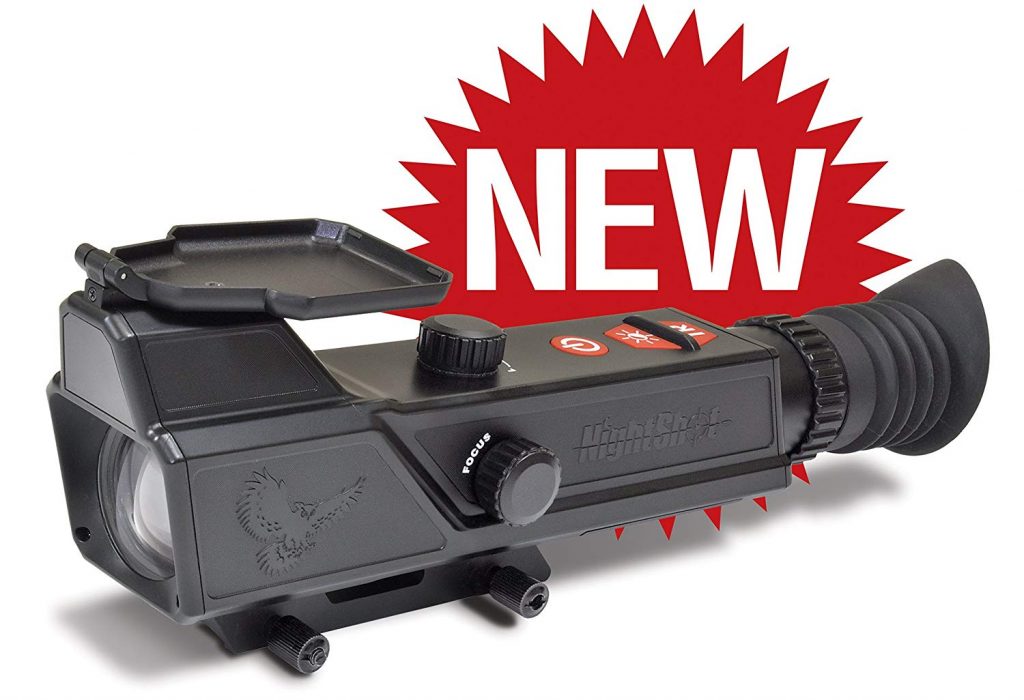 It is time to meet one of the newest night vision scopes in the market – the Night Shot Digital Night Vision Riflescope by Night Owl. If you desire a rifle scope that is built with simplicity in mind and specially dedicated for hunting or shooting in the dark, then you will not go wrong with the Night Shot.
Night Owl might be unknown in the world of night optics, but for the right reasons, the Night Shot has managed to attract draw a lot of attention since it was released. Even though it's the first real night vision scope by the company, it has turned out to be an incredible success, beating many traditional models already on ground.
With only 4 AA batteries, this scope fairs well on the decent side. You can expect the cells to carry you for up to 3 hours without any hitches in power. More so, the batteries cost very little and are easily available.
While there are many things to expect from this optic, one of the features that makes it to really stand out from the pack is its weight. With just 1.3 pounds weight, this scope is as portable as ever. But it doesn't end there.
The 3x magnification of the scope provides a large field of view and allows you to target objects up to 200 yards when used in an open terrain. You will also be impressed with its high resolution display. This, together with the 3 reticle option makes it possible for you to identify and acquire targets with greater precision.
To ensure even more image clarity, the lenses are completely multi-coated, while the entire scope itself is weatherproof, so you don't have to worry about getting caught in the rain on a cold night.
Comes with built-in infrared illuminator
Battery doesn't last too long (usually around 3 hours)
Types of Night Vision Scope
When looking for a good vision scope to buy, apart from the brands, you might also want to look into the type of scope or the generation it belongs to.
Presently, there are 4 night vision generations – the 1st Generation, the 2nd Generation, the 3rd Generation, and the 4th Generation. Let's quickly look at each one.
1st Generation 
These are arguably the simplest type of rifle scope available out there. Like their name indicates, they were the first group of binoculars introduced to provide illumination for target shooting or hunting at night.
At the time they first appeared (during the 60s and 70s), they were quite massive and as such were a bit difficult to carry about. Eventually, their sizes reduced, as more advances were made in the technology.
For what it's worth, the 1st Generation night vision scopes are not expensive, which is not surprising since they represent the oldest technology. In fact, they are the most affordable options in the market, and are probably slower than the scopes of subsequent generations. As such, you shouldn't expect much from them.
They required moonlight to work and mainly used passive infrared. Apart from the target they illuminate, they also give away the position of the user. Their battery life is short and they don't last as long as their counterparts.
The images they produce are mostly lower in resolution, which shouldn't be a problem if you are hunting for vermin.  But for more serious applications, any of the later generation scopes would definitely perform better.
2nd Generation 
Next, after the 1st Generation binoculars is the 2nd Generation.
As expected, the 2nd Generation scopes are the upgraded versions of the 1st Generation, and cost more money. However, they are still very affordable especially when compared to the 3rd and 4th Generation scopes.
Remember, portability is a major issue with the 1st Generation scopes due to their bulky size, but this is not the case with the 2nd Generation scopes. The latter have a more compact design and are smaller in size than their younger brothers; this makes them easier to carry about.
Unlike their predecessors which have an overall life expectancy is around 1,500 hours, the 2nd Generation scopes last longer at 4,500 hours. They produce better image resolution and have longer battery life. They are also able to shoot longer distance than the 1st Generation scopes.
It is important to note that the 2nd Generation scopes also have an improved version known as 2nd Generation Plus, which are generally thought to perform better.
Whether you are a hunter or a tactical shooter, you will find the 2nd Generation binoculars sufficient for most applications, especially in high-risk situations.
3rd Generation
After the second generation, comes the third generation, which were probably the baddest boys in the league until the 4th Generation scopes were introduced recently.
As expected, the 3rd Generation scopes are more expensive than the 1st and 2nd Generation scopes. However, they offer more advanced technology and precision – the major reason why they are used in the military.
They offer greater accuracy and vision than their predecessors, and the images they produce are usually clearer and more stable.
Until the 4th Generation scopes came on the scene, they offered the best image resolution and have a battery life that spans up to 10, 000 words.
If you can look beyond the price, going for a 3rd Generation scope would definitely be the best move as they tend to offer you the best of everything.
4th Generation
The 4th Generation scopes were released not long ago; we could have just left them out since they still have a low market presence. In fact, finding them anywhere especially when searching would be very difficult.
The major upgrade these scopes have from the 3rd Generation is enhanced clarity. However, this is done at the expense of their protective coating, consequently leading to a decreased lifespan.
In other words, even though these scopes will produce the best images, they do not last very long. As such, it would almost seem impractical to use them, except you don't mind replacing them sooner.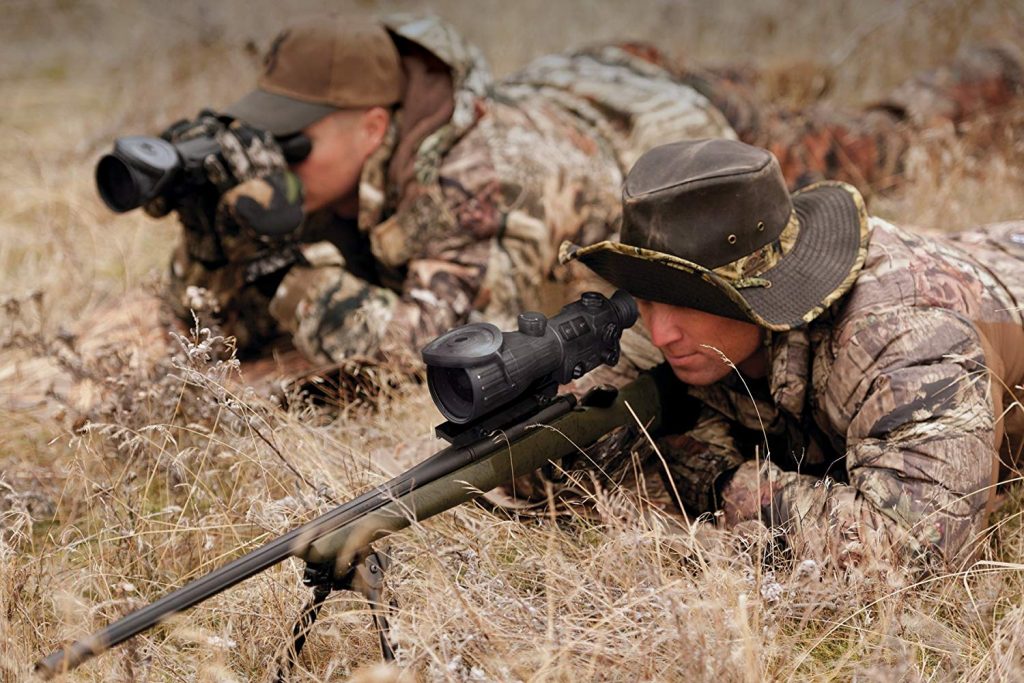 Thermal Vs. Night Vision
Because they are both used in the dusk, many people tend to think that the night vision scope is the same thing as the thermal scope. However, in reality, both optic devices are not only different in functionality but also in the way they are used.
Starting with how they create images, both scopes usually employ different elements. A thermal scope utilizes the heat signature of the target to create pictures while a night vision scope uses ambient light or flash.
In other words, it is the amount of heat that is produced by the target that determines the functionality of a thermal scope.
Whereas in the case of a night vision scope, the optic only needs to amplify the ambient light; and in a situation where there's no ambient light (usually supplied by the moon), the optic will still work by amplifying the flashlight produced by its own infrared illuminator.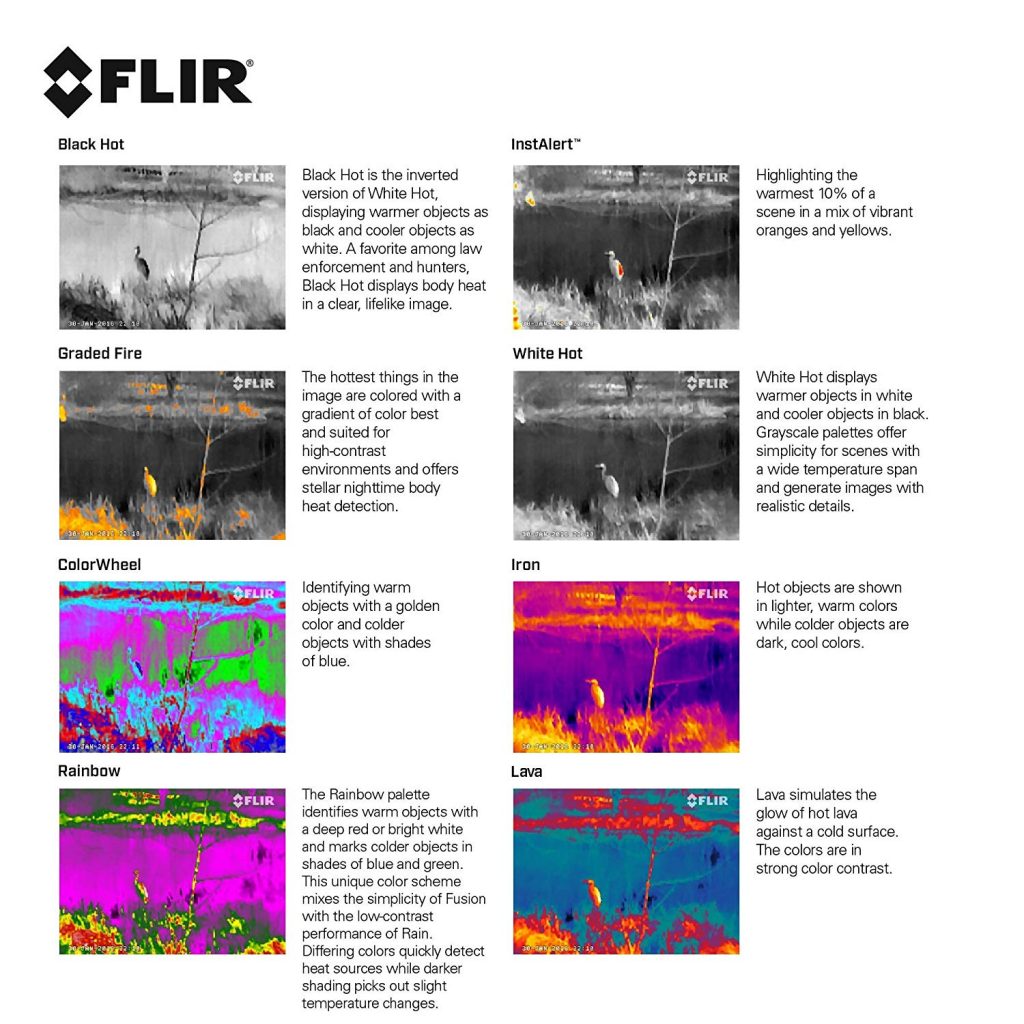 It should be noted that even though thermal optics can identify objects hundreds of yards away in open space through their heat signatures, they are less accurate in the sense that they don't provide all the needed information to take down your target with one pull of the trigger.
In fact, there are many high end optics of the thermal kind that can spot objects over a mile, but when it comes to accuracy, you cannot rely on them.
In contrast, night vision scopes provide more clarity and detail on the target allowing you to make more accurate shots. However, they cannot go several yards like the thermal scopes.
Our recommendation is to use both type of optics when hunting in the dark as they can be used to complement each other. You can use the thermal scope to identify the game, and then use the night vision to target and shoot at it.
Must-Have Legality & Ethics
Night vision scopes are not like conventional optics which can be used without much jurisdiction. So if you're really serious about delving into the world of night vision scopes whether for hunting or tactical operations, it's important to understand what you're getting yourself into.
Apart from observing all the safety rules that guide the use of firearms in the night, you must be aware of the legal implications and ethics involved with the use of this optics. First, you need to be sure the scope is allowed in the area you plan to use it.
There are some places in the U.S where using a night vision scope would be considered illegal. And even when the equipment is allowed, there may be regulations as to when to use it.
It is even more difficult if you intend to use the equipment outside the U.S especially for personal purpose. In this case, it is assumed you are exporting the scope, and as such you need to request permission from the appropriate legal authority (usually the U.S State Department).
In terms of ethics, you have to be careful how and when to use a night vision or thermal optics. For instance, it's might not be right to scout for deer in the off-season with any one of these scopes. Also, you shouldn't use it at a very close range instead of the normal hunting technique.
Performance Factors for the Consideration
When buying a night vision scope, there are some key performance factors you need to look out for in order to get a product that will truly provide the best value for your money.
IR
IR is a short form for Infrared Illumination, and it's a critical factor for choosing a night vision scope (probably the most important one).
Without an in-built infrared illuminator, a night vision scope would be useless in pitch dark situations. This is because the scope needs ambient light to work. And when there's none, it uses the flashlight produced by the infrared illuminator enabling you to still see clearly in total darkness.
So make sure the scope you have in mind has a sharp IR before putting out your money for it.
Durability
Even for a price under 500, a night vision scope might still be a small fortune for many people. This is why it's extremely important to go for something that will last you a long time. Usually, the more sophisticated the scope is the more its potential for failure rises.
You need to pay attention to the kind of material the scope is made of. Does it get damaged by water or is it waterproof?
Hunting with a night vision scope that is waterproof is essential to protect the fragile electronics and devices.
What about the shock sensitivity and recoil rate?
You need to get it right in all these things in order to get a scope that is really durable.
Clarity
Whether you are going out on a hunt or tactical operation, choosing a night vision scope with a good resolution is critical. Imagine shooting at what you can't see.
If there's no way to clearly identify your target, pulling the trigger would be pointless or even risky because you don't want to shoot something else. So make sure you pay attention to the clarity of the scope you have in mind before putting out your money for it.
The resolution of a night vision scope is usually measured in terms of lines per millimeter or LP/MM. And the higher the LP/MM, the higher the clarity of the images produced by the scope. In other words, a high-resolution scope would always have clearer pictures than one with a lesser resolution, especially when the target is far away.
Weight
Another area you want to pay attention to when shopping for a new night vision scope is the weight of the optic.
Considering the fact that you are going to be moving around a lot, it is usually a good idea to go for scope that will be difficult to cope with because of the weight. Apart from leading to tired hands, such a scope can easily compromise your aim.
However, it is also important to note that the quality of the scope can also be influenced by the weight. In many cases, the lighter the scope, the more likely for the quality to be compromised.
So what you want to do is find a balance between both features. Choose a scope that has a moderate weight. It shouldn't be too heavy or too light.
If you plan to move a lot, a lighter scope will definitely look more attractive. However, if you intend to shoot from one spot, then a heavier scope should be OK. Heavier scopes tend to last longer than those that are lightweight.
Recognition Range
Recognition range is a critical factor for choosing any night vision scope.
It's always a good idea to know how far the scope can go so you can determine if it will be able to meet your needs.
By knowing the recognition range, you will be able to know the actual range that can produce a clear image.
Frequently Asked Questions
What is meant when a scope is said to be "autogated"?
Autogation makes it possible for the image quality of a scope to be adjusted automatically. The pictures produced by such scopes are usually less distorted by light as compared to images produced by scopes without this functionality.
Should I choose green or black and white? Which one is better?
Really, it all depends on your preference. However, it's still important to note that both color environments have their own advantages and disadvantages.
The major hit for using the black and white is that it looks more natural for your eyes, so you are likely to recover your "normal" sight faster than you would when viewing green images. However, the later usually looks cooler.
Can I use a night vision scope during the day?
Of course! There are many models that are designed to serve for both day and night vision. However, we do advice using it for night hunting only, as this will make the device to last much longer.
Apart from hunting, what else can I do with a night vision scope?
A night vision scope can serve for many nighttime activities other than hunting. This includes photography, home surveillance, stargazing and so on.
How can I prevent my scope from damage?
The best way to protect your night vision scope from damage is to use it with care. By all means, you must avoid dropping the scope or bumping into other objects as this can affect the zero of the scope or completely damage it. This applies to every scope even if its "shockproof".
What is an IR and why do I need it?
Even though it is meant to illuminate your path, a night vision scope will not give you any clear image without a light source. It works by amplifying the light source, which could be natural or projected.
An ambient light source like the moon is natural, however, there might be times where there's no moonlight. In such situations, a projected light source like a flashlight would be needed. An IR serves for this purpose.
Conclusion
There you have it – the best night vision scope under $500. Hopefully, by now you should know the most important things to look out for when shopping for a night vision scope. And with our narrow list, the search has been made a whole lot easier.
We encourage you not to look beyond the scopes on the list, as these ones represent the best among the hundreds and thousands of models in the market. Not only will they illuminate your path, but also enable you to shoot with greater accuracy.